"For most of us, this DVD by Ozzie Ozefovich, will provide a highly informative view of the world through the trout's window—a view that we all need to understand, but one that few have seen. Be certain that you see this DVD, it will make you a better angler".
~ Gary Borger - Trout Vision & Refraction
"After viewing Feeding Lies,I plan to take a second look at stretches of water I passed up in the past. I will also re-think some of my presentations to the fish residing in these areas.Ē
~ Jay "Fishy" Fullum - Feeding Lies
"Feeding Lies will revolutionize trout fishing…no more guessing or imagining what goes on in the trout's world.The most important trout video to date."
~ Ed Jaworowski - Feeding Lies
All 3 Volumes of The Underwater World of Trout Series
This full library of narrated DVDs will educate both novice and experienced fishermen alike into the underwater world of trout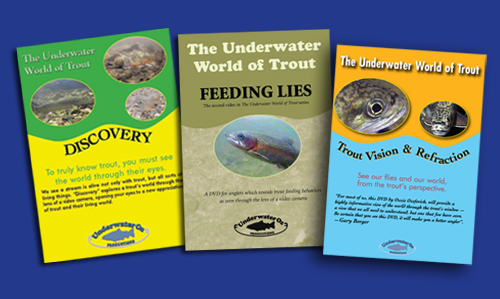 Purchase the collection and save!

"Not just trout fishermen but any fly fishermen stalking fish (bonefish, redfish and more) should buy and absorb what Ozzie has so well presented".
~ Lefty Kreh